Doing the Right Thing: Silicon Labs and American Red Cross
04/15/2020 | Silicon Labs | 1 Min Read
As part of our mission to create a smarter, more connected world, Silicon Labs has had a long history of giving back to organizations helping our communities. Since 2013, I have had the honor of serving on the board of the Central Texas Chapter of the American Red Cross and am currently serving as board chair. During my time with the organization, the Red Cross has been on the front lines of countless emergencies around the globe. From house fires to Hurricane Harvey to floods in Tennessee to wildfires in Australia, the Red Cross has provided vital services to people in need, helping communities rebuild and thrive.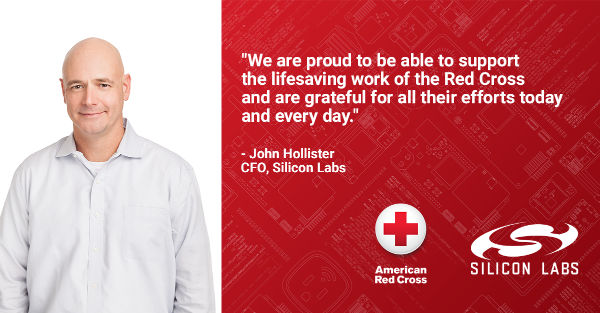 We've seen this stated many times over the past few months and it couldn't be more true - the COVID-19 outbreak is unprecedented. Nearly two million people around the world have been infected, more than a hundred thousand have died, and the numbers continue to rise every day. Yet through the heartbreaking loss and sorrow, we have also seen incredible acts of humanity and innovation emerge.
One innovative way the Red Cross is helping address the pandemic is through a new program using plasma donations from fully recovered COVID-19 patients. The convalescent plasma is being evaluated as treatment for people with serious or immediately life-threatening COVID-19 infections, or those determined to be at high risk of progression to severe or life-threatening disease. In addition, the Red Cross, with responsibility for approximately 40% of the nation's blood supply, is continuing their essential blood and platelet collection program used to help people of all ages suffering from many different types of illnesses. We are pleased to support the American Red Cross with a $50K donation for their COVID-19 relief efforts, including blood and serum collection and related work.
It will take everyone -individuals, businesses, governments, nonprofit organizations - coming together to stop the spread of COVID-19, and to lessen its impact on our communities. We are proud to be able to support the lifesaving work of the Red Cross and are grateful for all of their efforts today and every day.
For more information about the Red Cross, visit redcross.org, and click here to donate. To find out more about how we fulfill our corporate value to "do the right thing" by giving back, visit our community commitment page.