We Know Wireless. 
We built an integrated wireless development platform to help you solve both the common and complex challenges of creating connected devices. We make it easier for you to quickly get to market with intelligent, secure solutions from edge to cloud. 
Our tech is built for the IoT and IIoT, taking into consideration cost, power, size, storage, interoperability, reliability, robustness and more.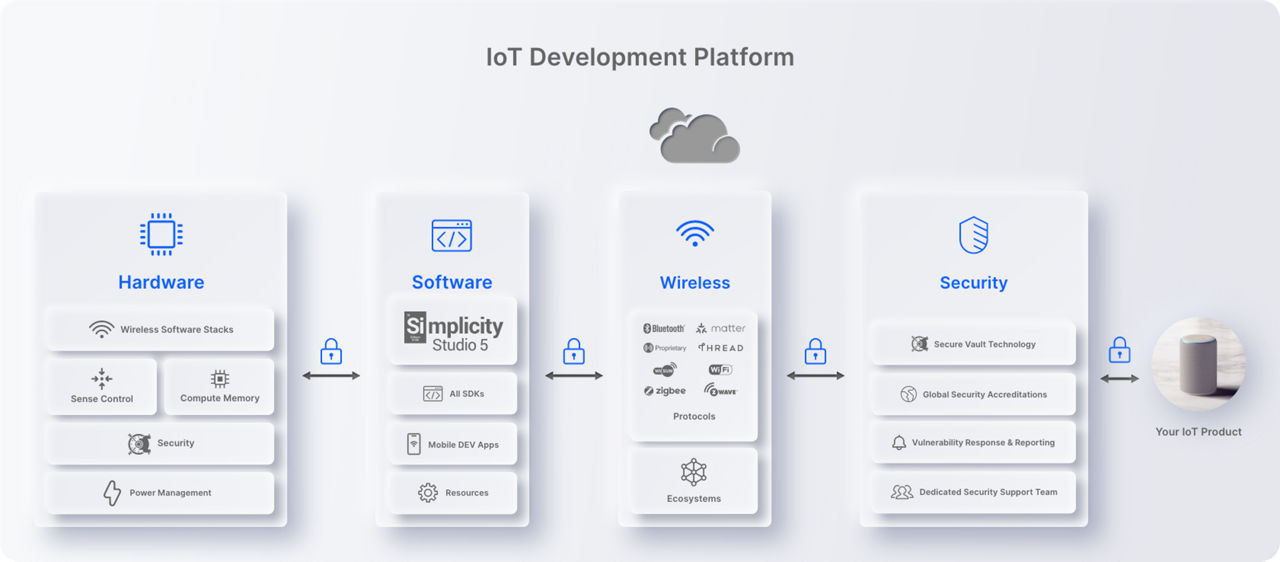 What is the Silicon Labs IoT Development Platform?
Our integrated hardware and software platform and intuitive development tools make us the ideal long-term partner for creating wirelessly connected devices for any industrial, commercial, home, health or safety application. 

Hardware
Our integrated hardware makes it easy for developers to solve complex wireless challenges and get to market quickly with innovative solutions that transform industries.
Wireless Hardware
We've deployed more than one billion wireless chips for the Internet of Things. With our broad range of system-on-a-chip (SoCs), modules and development kits, we have a hardware solution for all your connected device designs. Our hardware features the following: 
Compute and Memory
Our main core is the perfect balance of ease of use, flexibility, and practicality.  It features the following:
Based on new ARM V8
Latest security and low power feature
High work throughput
Memory specifically designed to function while running a wireless stack 
Integrated wear leveling
Single shared storage for multiprotocol applications
Configurable storage and object sizes
Sense and Control 
Sense and control are the two most common goals of IoT applications. With integrated digital and analog front ends, our platform has the ability to perform these actions at a minimal bill-of-materials cost. Specifics: 
Easily communicate with the industry's most common sensor interfaces
Rapidly prototype a wide variety of devices using our low-power, fast speed microcontrollers (MCUs)
Obtain fast, accurate measurements with our intelligent sensor solutions

Software
Our software abstracts the complexity of items like multiprotocol and pre-certification so you can quickly get to market with intelligent, secure solutions from edge to cloud.
Wireless Software Stacks
Wireless software stacks are a critical piece of our IoT development platform. We write all of our stacks in-house to ensure a tightly integrated coupling of the hardware and software, leading to a more powerful platform. Since we have control from silicon to tools, our stacks feature the following:
Abstracts the complexity of items like multiprotocol and pre-certification

Industry-leading ability to support a large number of nodes
Ultra-low power consumption
Strong network reliability
We also help futureproof your devices with over-the-air software and security updates.
Development Tools 
We designed Simplicity Studio, our core development environment, to help you quickly get to market with intelligent, secure solutions from edge to cloud. It features the following: 

IDE based on latest versions of Eclipse and C/C++ development tooling
Software and hardware configuration tools 
Industry-standard code editors, compilers and debuggers 
Tools for advanced network analysis 
Code-correlated energy profiling 
Advanced Secure Vault technology

Device-specific web and SDK resources

Web-like interface and solid performance 
Intelligent recognition of Silicon Labs evaluation and development kits 

Free to all developers 
Security

Security is at the root of our entire platform. Our leading security technology, Secure Vault, offers an unrivaled platform with secure key storage, anti-rollback, secure boot, secure update and more.  
What Makes Us Unique?
We are pioneers in wireless innovation and have spent the last two decades simplifying the complexity of RF from silicon to cloud.  With our longstanding knowledge of wireless and wired technology, our product portfolio is unmatched in breadth and depth. No matter your application, protocol, ecosystem or unique design requirements, we have the technology to meet your needs. In fact, according to industry estimates, our products & technologies will address a $10B market by 2023. 
How Will You Help Me Be Successful? 
We promise to be your decades-long technology and business partner, delivering software and silicon to simplify the complexity of your IoT development. We will support you throughout the entire lifecycle of your connected devices – development, manufacturing, distribution, use, maintenance, and recycling – to ensure you are delivering a meaningful, world-class experience to your customers. 
Who Uses the Silicon Labs Platform? 
We "Work With" everyone. From the budding entrepreneur to the largest brands, more than 10k companies use our technology to create amazing, connected devices. No matter your industry, protocol, ecosystem or embedded experience level, we have a solution for you. 
Connectivity
RF is what we do. Our high-performance wireless development platform provides long-range, highly sensitive, reliable, robust connections for any standard, protocol or ecosystem.