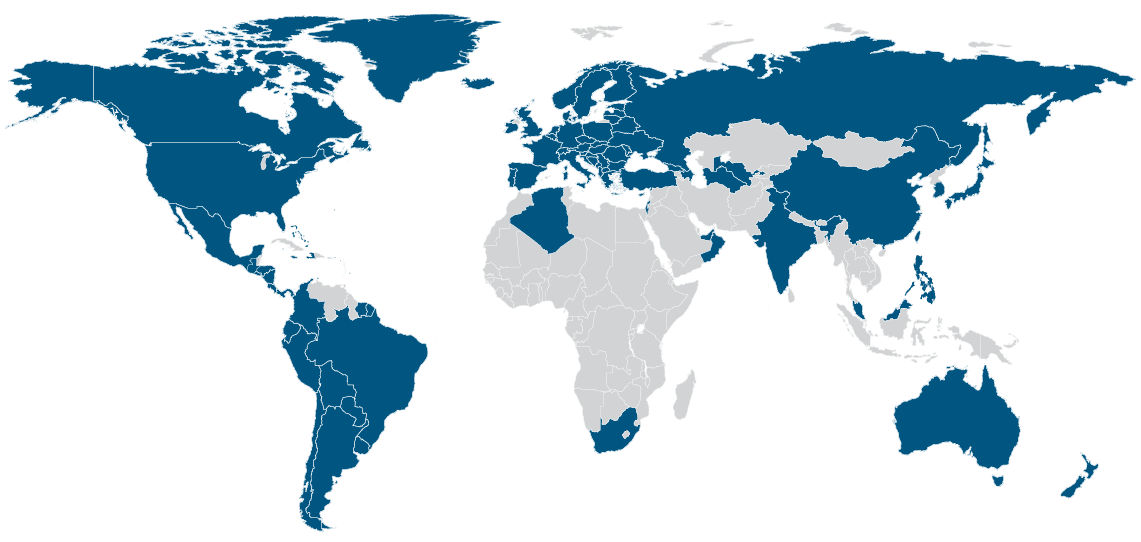 Z-Wave Global Regions
Where Z-Wave Works
With over 100 million devices in homes worldwide, Z-Wave clearly has a global presence. Over time we will see Z-Wave become available in more and more countries. Currently the Z-Wave RF has been approved for the following countries:
Albania, Algeria, Andorra, Argentina, Armenia, Australia, Austria, Azerbaijan
Bahamas, Bahrain, Barbados, Belarus, Belgium, Bermuda, Bolivia, Bosnia and Herzegovina, Brazil, British Virgin Islands, Bulgaria
Canada, Cayman Islands, Chile, China, Columbia, Costa Rica, Croatia, Cyprus, Czech Republic
Denmark, Dominican Republic
Ecuador, Egypt, El Salvador, Estonia
Finland, France, French Guiana
Germany, Greece, Guatemala
Haiti, Honduras, Hong Kong, Hungary
Iceland, India, Indonesia, Ireland, Israel, Italy
Jamaica, Japan, Jordan
Kazakhstan, Kuwait
Latvia, Lebanon, Libya, Liechtenstein, Lithuania, Luxembourg
Macedonia, Malaysia, Malta, Mauritius, Mexico, Moldova, Monaco, Montenegro
Netherlands, New Zealand, Nicaragua, Nigeria, Norway
Panama, Paraguay, Peru, Poland, Portugal
Qatar
Romania, Republic of Korea, Russian Federation
San Marino, Saudi Arabia, Serbia, Singapore, Slovakia, Slovenia, South Africa, South Korea, Spain, St. Kitts & Nevis, Sweden, Switzerland, Suriname
Taiwan (China), Trinidad & Tabago, Turkmenistan, Turks & Caicos, Thailand
Ukraine, United Arab Emirates, United Kingdom, United States, Uruguay
Vatican City
Yemen
Radio Frequency
The Z-Wave Developer's Kit enables developers and Original Equipment Manufacturers (OEMs) to design and develop products that network wirelessly using RF-based Z-Wave technology.
For each country or region, the product has to apply to the standard Z-Wave frequency used and approved in that region. This table shows the current Z-Wave sub-1 GHz frequency coverage. This information is for reference only and should not be relied upon for technical or other purposes. Customers are solely responsible for verifying the frequency value and channel allocation in their respective region before developing and deploying a product.
Country/Region
Standard
Z-Wave Frequency
Residential Voltage
Frequency
Module Version
SW. Lib.
Algeria
EN 300 220
919.8 MHz
230 V
50 Hz
 H
HK
Argentina
 FCC CFR47 Part 15.249
908.4 MHz, 916 MHz
220 V
50 Hz
 U
US
Armenia
EN 300 220
868.4 MHz, 869.85 MHz
230 V
50 Hz
 E
EU
Australia
AS/NZS 4268
919.8 MHz, 921.4 MHz
230 V
50 Hz
 H
ANZ
Bahamas
FCC CFR47 Part 15.249
908.4 MHz, 916 MHz
120 V
60 Hz
 U
US
Bahrain
EN 300 220
868.4 MHz, 869.85 MHz
230 V
50 Hz

 E
EU
Barbados
FCC CFR47 Part 15.249
908.4 MHz, 916 MHz
115 V
50 Hz

 U
US
Bermuda
FCC CFR47 Part 15.249
908.4 MHz, 916 MHz
120 V
60 Hz

 U
US
Bolivia
FCC CFR47 Part 15.249
908.4 MHz, 916 MHz
115 V, 230 V
50 Hz

 U
US
Brazil
ANATEL Resolution 506
919.8 MHz, 921.4 MHz
127 V, 220 V
60 Hz

 H
ANZ
British Virgin Islands
FCC CFR47 Part 15.249
908.4 MHz, 916 MHz
110 V
60 Hz

 U
US
Canada
FCC CFR47 Part 15.249
908.4 MHz, 916 MHz
120 V
60 Hz

 U
US
Cayman Islands
FCC CFR47 Part 15.249
908.4 MHz, 916 MHz
120 V
60 Hz

 U
US
CEPT*
Cyprus
Moldova
EN 300 220
868.4 MHz, 869.85 MHz
230 V, 240 V, 220 V
50 Hz

 E
EU
Chile
AS/NZS 4268

919.8 MHz, 921.4 MHz
220 V
50 Hz

 H
ANZ
China
CNAS / EN 300 220 / CMIIT 2016DJ7232
868.4 MHz
220 V
50 Hz

 E
CN
Colombia
FCC CFR47 Part 15.249
908.4 MHz, 916 MHz
110 V
60 Hz

 U
US
Costa Rica
ARIB T96, ARIB STD-T108
922.5 MHz, 923.9 MHz, 926.3 MHz
120 V
60 Hz

 H
JP
Dominican Republic
AS/NZS 4268

919.8 MHz, 921.4 MHz
115 V
60 Hz

 H
ANZ
Ecuador
ARCOTEL Resolution 12-09-ARCOTEL-2107, Note EQA.45
919.8 MHz, 921.4 MHz
120 V
50 Hz

 H
ANZ
Egypt
EN 300 220
868.4 MHz, 869.85 MHz
220 V
50 Hz

 E
EU
El Salvador
AS/NZS 4268

919.8 MHz, 921.4 MHz
115 V
60 Hz

 H
ANZ
French Guiana
EN 300 220
868.4 MHz, 869.85 MHz
220 V
50 Hz

 E
EU
Georgia
EN 300 220
868.4 MHz, 869.85 MHz
220 V
50 Hz

 E
EU
Guatemala
FCC CFR47 Part 15.249
908.4 MHz, 916 MHz
120 V
60 Hz

 U
US
Haiti
FCC CFR47 Part 15.249
908.4 MHz, 916 MHz
110 V
60 Hz

 U
US
Honduras
FCC CFR47 Part 15.249
908.4 MHz, 916 MHz
110 V
60 Hz

 U
US
Hong Kong
HKTA 1035
919.8 MHz
220 V
50 Hz

 H
HK
India
CSR 564 (E)
865.2 MHz
230 V
50 Hz

 E
IN
Indonesia
Regulation No. 161 Tahun 2019
919.8 MHz, 921.4 MHz
230 V
50 Hz

 H
ANZ
Iraq
EN 300 220
868.4 MHz, 869.85 MHz
 
50 Hz

 E
EU
Israel
 
916 MHz
230 V

50 Hz

 U
IL
Jamaica
FCC CFR47 Part 15.249
908.4 MHz, 916 MHz
110 V
50 Hz

 U
US
Japan
ARIB STD-T108
922.5 MHz, 923.9 MHz, 926.3 MHz
100 V
50 Hz, 60 Hz

 H
JP
Jordan
EN 300 220
868.4 MHz, 869.85 MHz
230 V
50 Hz

 E
EU
Kazakstan
EN 300 220
868.4 MHz, 869.85 MHz
220 V
50 Hz

 E
EU
Kuwait
EN 300 220
868.4 MHz, 869.85 MHz
240 V
50 Hz

 E
EU
Lebanon
EN 300 220
868.4 MHz, 869.85 MHz
220 V
50 Hz

 E
EU
Libya
EN 300 220
868.4 MHz, 869.85 MHz
127 V
50 Hz

 E
EU
Macau
Clause 2, Article 58-2 of Radio Waves Act 
920.9 MHz, 921.7 MHz, 923.1 MHz
230 V
50 Hz

 H
KR
Malaysia
MCMC MTSFBTC T007: 2014
919.8 MHz, 921.4 MHz
230 V
50 Hz

 H
ANZ
Maldives
EN 300 220
868.4 MHz, 869.85 MHz
220 V
60 Hz

 E
EU
Mauritius
EN 300 220
868.4 MHz, 869.85 MHz
230 V
50 Hz

 E
EU
Mexico
FCC CFR47 Part 15.249
908.4 MHz, 916 MHz
127 V
60 Hz

 U
US
Morocco
CNAS / EN 300 220 / CMIIT 2016DJ7232
868.4 MHz
127 V, 220 V
50 Hz

 E
CN
New Zealand
AS/NZS 4268
919.8 MHz, 921.4 MHz
230 V
50 Hz

 H
ANZ
Nicaragua
FCC CFR47 Part 15.249
908.4 MHz, 916 MHz
120 V
60 Hz

 U
US
Nigeria
EN 300 220
868.4 MHz, 869.85 MHz
240 V
50 Hz

 E
EU
Oman
EN 300 220
868.4 MHz, 869.85 MHz
240 V
50 Hz

 E
EU
Panama
FCC CFR47 Part 15.249
908.4 MHz, 916 MHz
110 V, 120 V
60 Hz

 U
US
Paraguay
AS/NZS 4268

919.8 MHz, 921.4 MHz
220 V
50 Hz

 H
ANZ
Peru
AS/NZS 4268

919.8 MHz, 921.4 MHz
220 V
60 Hz

 H
ANZ
Philippines
EN 300 220
868.4 MHz, 869.85 MHz
220 V
60 Hz

 E
EU
Qatar
EN 300 220
868.4 MHz, 869.85 MHz
240 V
50 Hz

 E
EU
Russia
GKRCh/EN 300 220
869.0 MHz
230 V
50 Hz

 E
RU
Saudi Arabia
EN 300 220
868.4 MHz, 869.85 MHz
127 V, 220 V
60 Hz

 E
EU
Singapore
IMDA TS SRD

920.9 MHz, 921.7 MHz, 923.1 MHz
230 V
50 Hz

 H
KR
South Africa
 ICASA/EN 300 220
868.4 MHz, 869.85 MHz
230 V
50 Hz

 E
EU
South Korea
Clause 2, Article 58-2 of Radio Waves Act
920.9 MHz, 921.7 MHz, 923.1 MHz
230 V
60 Hz

 H
KR
St Kitts & Nevis
FCC CFR47 Part 15.249
908.4 MHz, 916 MHz
110 V, 230 V
60 Hz

 U
US
Suriname
FCC CFR47 Part 15.249
908.4 MHz, 916 MHz
127 V
60 Hz

 U
US
Taiwan
Changed from JP May 2017
920.9 MHz, 921.7 MHz, 923.1 MHz
110 V
60 Hz

 H
KR
Thailand
Clause 2, Article 58-2 of Radio Waves Act 
920.9 MHz, 921.7MHz, 923.1 MHz
220 V
60 Hz

 H
KR
Trinidad & Tabago
FCC CFR47 Part 15.249
908.4 MHz, 916 MHz
115 V
60 Hz

 U
US
Turkmenistan
EN 300 220
868.4 MHz, 869.85 MHz
220 V
50 Hz

 E
EU
Turks & Caicos Islands
FCC CFR47 Part 15.249
908.4 MHz, 916 MHz
110 V, 120 V
60 Hz

 U
US
UAE
EN 300 220
868.4 MHz, 869.85 MHz
220 V
50 Hz

 E
EU
Uruguay
AS/NZS 4268

919.8 MHz, 921.4 MHz
230 V
50 Hz

 H
ANZ
USA
FCC CFR47 Part 15.249
908.4 MHz, 916 MHz
120 V
60 Hz

 U
US
Uzbekistan
Uz.SMT.01.334.1961745
868.4 MHz, 869.85MHz
220 V
50 Hz

 E
EU
Venezuela
 
919.8 MHz, 921.4 MHz
 
50 Hz

 H
ANZ
Vietnam
AS/NZS 4268

919.8 MHz, 921.4 MHz
230 V
50 Hz

 H
ANZ
Yemen
EN 300 220
868.4 MHz, 869.85 MHz
230 V
50 Hz

 E
EU