Connect Your Home Beyond Your Front Door with Silicon Labs and Amazon Sidewalk
09/21/2020 | Silicon Labs | 1 Min Read
Amazon Sidewalk and Silicon Labs Collaboration
Amazon Sidewalk is an exciting ecosystem for creating a wireless neighborhood network enabling IoT devices to work together no matter where they are, independent of any particular broadband connection. Hot on the heels of our successful Works With Virtual Smart Home Developer Conference, we're excited to announce a collaboration with Amazon on this promising new way for customers to ensure secure connections for smart devices anywhere on their property.
What is Amazon Sidewalk?
Amazon Sidewalk is a secure, shared network created by neighbors who share a small portion of their broadband connection, allowing their devices to work better at home and beyond the front door. It is a free software application layer that works on top of any wireless solution, including Sub-GHz FSK, Bluetooth LE, and Wi-Fi, enabling IoT devices to connect to each other and through the cloud network securely.
Designed to provide the best experience for people with connected homes, Amazon Sidewalk creates a broad coverage network, ideal for low-bandwidth, low-cost devices, without requiring complex setup or maintenance. One of the most exciting things about Amazon Sidewalk is the ability for the network to extend beyond individual properties to the global Sidewalk network with a range similar to cellular networks.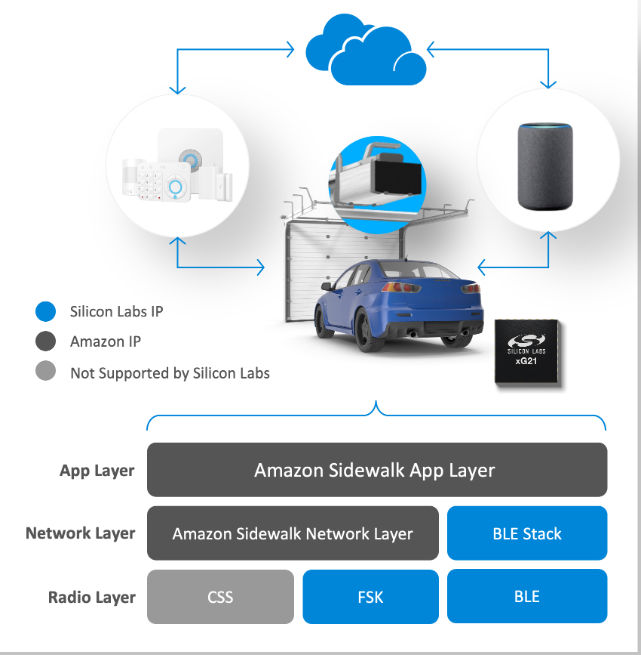 How to Learn More about Amazon Sidewalk?
Jamie Siminoff, founder & chief inventor of Ring, discussed Sidewalk during his feature keynote during our Works With 2020 virtual smart home developer conference. A replay of Siminoff's keynote is available here and can be viewed by registering for free on the Works With conference website here. Amazon employees also recently demonstrated the capability of Sidewalk by installing 700 Ring lighting products around their homes; in just a few days, the individual network points combined to support a secure low-bandwidth 900 MHz network covering a large portion of the Los Angeles Basin.
Silicon Labs Solutions for Amazon Sidewalk
Silicon Labs' EFR32 Wireless Gecko Series 2 family of products will work seamlessly with Amazon Sidewalk when Sidewalk SDK is launching later this year. This launch will enable developers to create IoT products that can securely communicate to the cloud, regardless of which wireless protocol is used. We're looking forward to all of the possibilities Amazon Sidewalk will offer and cannot wait to see what our customers develop with this exciting new technology. For more information on how to get started with Sidewalk, contact your local Silicon Labs Sales Representative.